Housing Discrimination and Rights
It is unlawful for housing providers such as landlords, housing managers, homeowners or condominium associations, lenders, and real estate agents to discriminate against applicants or residents because of their disability or the disability of anyone associated with them and from treating  persons with disabilities less favorably than others because of their disability. The federal Fair Housing Act prohibits discrimination in housing on the basis of disability, race, color, national origin, familial status and sexual orientation.  This law further prohibits the refusal to make reasonable accommodations in rules, policies, practices, or services when such accommodations may be necessary to afford a person with a disability the equal opportunity to use and enjoy a dwelling.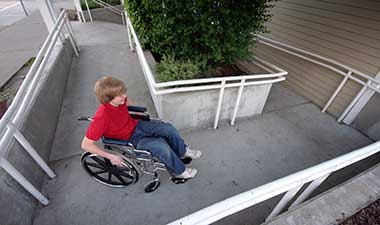 Allowing a service or therapy animal, despite a no-pet policy in a lease, homeowners or condominium agreement;
Permitting a tenant to have a live-in aide, who assists with daily care even though the aide is not on the lease;
Assigning a parking space to a resident with a physical impairment;
Allowing installation of a ramp so a person utilizing a wheel chair can access the entrance of the dwelling;
Allowing installation of grab bars in the dwelling or restroom to allow a person with disabilities to stabilize him or herself.
Disability discrimination in housing can occur in a variety of different circumstances.  The following are examples of discriminatory practices:
An apartment complex charges a higher amount of rent to an individual with disabilities than other tenets because he or she has a service animal.
A homeowners association orders an individual with disabilities to remove a ramp leading into his or her house because the ramp was contrary to the architectural guidelines of the housing community.
A condominium complex mandates that a resident with disabilities remove their companion animal from the dwelling.
A local governmental entity denies a building permit for a group home for persons with intellectual disabilities or mental illness.
If you feel that you have been subjected to discrimination in housing, contact the Law Office of Charles Weiner.
267-685-6311 | info@charlesweinerlaw.com